They are the names, logos and slogans that identify your company and separate you from your competition. They symbolize your brand, your products, and your services. Not only do your customers rely on them to forge their own brand loyalty, they use them to refer others to your company. They are your trademarks and nobody knows how to protect them, defend them and enforce them better than The Kinder Law Group.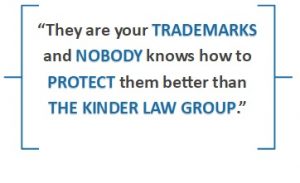 The Kinder Law Group understands that strong brand recognition helps customers distinguish your products and services from others and is crucial to building customer loyalty and a strong referral base.  The Kinder Law Group will help you to register and protect your company's brand name and the names of your products and services. In the early stages, our attorneys conduct clearance searches to determine if that perfect name is available for you to use. If you are already using the perfect name, our professionals develop strategies that allow your company to safely expand the promotion of your products and services. In this worldwide economy, The Kinder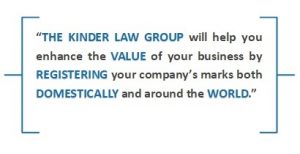 Law Group can also help you enhance the value of your business by registering your company's marks both domestically and around the world. Finally, if your company needs to enforce its rights against an infringer or defend itself against allegations of infringement, you can rely on our experienced and aggressive litigators.
Whether your company is launching next week or going public next month, our professionals strive to develop a focused and cost-effective plan to protect your brand names and maximize the legal advantages available to your business. Call us today for a free consultation at (949) 216-3070 or send us an email.
We look forward to working with you.


TRADEMARK LAWS
Federal
15 U.S.C. § 1072. Registration as constructive notice of claim of ownership. "Registration of a mark on the principal register provided by this Act or under the Act of March 3, 1981, or the Act of February 20, 1905, shall be constructive notice of the registrant's claim of ownership thereof."
15 U.S.C. §1114. Remedies; infringement; innocent infringment by printers and publishers. "(1) Any person who shall, without the consent of the registrant– (a) use in commerce any reproduction, counterfeit, copy, or colorable imitation of a registered mark in connection with the sale, offering for sale, distribution, or advertising of any goods or services on or in connection with which such use is likely to cause confusion, or to cause mistake, or to deceive; or (b) reproduce, counterfeit, copy, or colorably imitate a registered mark and apply such reproduction, counterfeit, copy, or colorable imitation to labels, signs, prints, packages, wrappers, receptacles or advertisements intended to be used in commerce upon or in connection with the sale, offering for sale, distribution, or advertising of goods or services on or in connection with which such use is likely to cause confusion, or to cause mistake, or to deceive, shall be liable in a civil action by the registrant for the remedies hereinafter provided. Under subsection (b) hereof, the registrant shall not be entitled to recover profits or damages unless the acts have been committed with knowledge that such imitation is intended to be used to cause confusion, or to cause mistake, or to deceive."
15 U.S.C. § 1125(a). False designations of origin and false descriptions forbidden. "Any person who, on or in connection with any goods or services, or any container for goods, uses in commerce any word, term, name, symbol, or device, or any combination thereof, or any false designation of origin, false or misleading description of fact, or false or misleading representation of fact, which– (A) is likely to cause confusion, or to cause mistake, or to deceive as to the affiliation, connection, or association of such person with another person, or as to the origin, sponsorship, or approval of his or her goods, services, or commercial activities by another person, or (B) in commercial advertising or promotion, misrepresents the nature, characteristics, qualities, or geographic origin of his or her or another person's goods, services, or commercial activities, shall be liable in a civil action by any person who believes that he or she is or is likely to be damaged by such act."
California
California Business and Professions Code § 14202(n): "Counterfeit means a spurious trademark, service mark, collective mark, or certification mark that is identical to, or substantially indistinguishable from, a registered mark that is used on or in connection with goods or services or any labels or packaging or components."
California Business and Professions Code § 14245(a). "A person who does any of the following shall be subject to a civil action by the owner of the registered mark, and the remedies provided in Section 14250:
(1) Uses, without the consent of the registrant, any reproduction, counterfeit, copy, or colorable imitation of a mark registered under this chapter in connection with the sale, distribution, offering for sale, or advertising of goods or services on or in connection with which the use is likely to cause confusion or mistake, or to deceive as to the source of origin of the goods or services.
(2) Reproduces, counterfeits, copies, or colorably imitates the mark and applies the reproduction, counterfeit, copy, or colorable imitation to labels, signs, prints, packages, wrappers, receptacles, or advertisements intended to be used upon or in connection with the sale or other distribution in this state of goods or services. The registrant shall not be entitled under this paragraph to recover profits or damages unless the acts have been committed with knowledge that the mark is intended to be used to cause confusion or mistake, or to deceive
(3) Knowingly facilitate, enable, or otherwise assist a person to manufacture, use, distribute, display, or sell goods or services bearing a reproduction, counterfeit, copy, or colorable imitation of a mark registered under this chapter, without the consent of the registrant. An action by a person is presumed to have been taken knowingly following delivery to that person by personal delivery, courier, or certified mail return receipt requested, of a written demand to cease and desist that is accompanied by all of the following…"